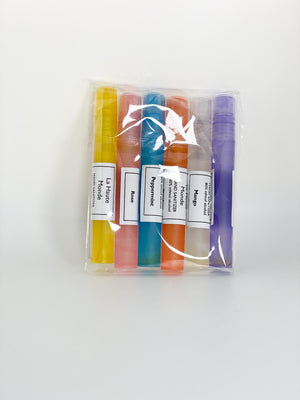 Scent Hand Sanitizer Variety Pack
Our Hand Sanitizer is 80% of germ-fighting power with a lovely fragrance - Peach, Mango, Tea Tree, Lemongrass, Geranium, and Lavender 
La Haute Monde Hand Sanitizer is alcohol-based according to the guidelines of the CDC.  Ingredient:  80% Ethyl Alcohol, Witch Hazel, Aloe Vera, Vitamin E, Lavender, and Tea Tree Oil.
CDC Disclaimer:

The CDC says that "While the exact role of direct and indirect spread of coronaviruses between people that could be reduced by hand hygiene is unknown at this time, hand hygiene for infection prevention is an important part of the U.S. response to the international emergence of COVID-19.
CDC recommends the use of alcohol-based hand sanitizers with greater than 60% ethanol or 70% isopropanol as the preferred form of hand hygiene in healthcare settings, based upon greater access to hand sanitizer. Health care providers who use alcohol-based hand sanitizers as part of their hand hygiene routine can inform patients that they are following CDC guidelines." 
Read here: https://www.cdc.gov/coronavirus/2019-ncov/infection-control/hcp-hand-sanitizer.html