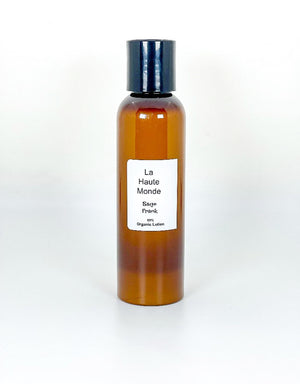 Organic Sage and Frank Lotion
La Haute Monde Organic Sage Frank Lotion is an earthy scent that is perfect all year round while nourishing your skin.  
"Sage Essential Oil is reputed to eliminate toxins

, provide relief to minor skin abrasions, diminish the appearance of blemishes, and address stretch marks, sores, and swelling. Its moisturizing and conditioning properties help soothe dryness and irritation

 
It's also thought that frankincense can help support cellular function, so it's often used to soothe skin and reduce the appearance of blemishes. "
89% Organic Ingredients
Contains organic certified Coconut, Apricot Kernel, Sunflower Oil, and Shea Nut butter
Enriched with moisturizing Aloe Vera
Light velvety texture that leaves the skin feeling silky
Suitable for all skin types
Simple Ingredients:
Purified Water
Organic Coconut Oil*
Organic Sunflower Seed Oil*
Cetearyl Alcohol
Coco-Glucoside
Organic Shea Butter*
Xanthan Gum
Apricot Kernel Oil
Phenoxyethanol
Organic (Aloe Vera) Leaf Juice Powder*
Citric Acid
Tocopherol
Lactic Acid
Benzoic Acid
Dehydroacetic Acid
Sage Oil
Frankincense Oil