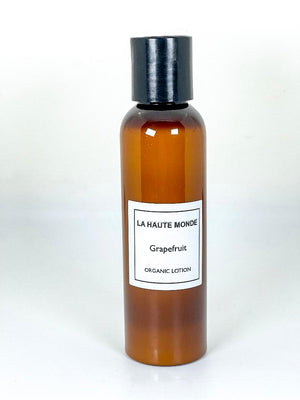 Organic Grapefruit Lotion
La Haute Monde Organic Grapefruit Lotion aroma will uplift your senses while providing moisture to your skin.  
"Grapefruit Essential Oil benefits include enhancing a sense of energy, helping to manage stressful and anxious feelings, and helping to manage feelings of discomfort experienced from stiffness and aches.  
Grapefruit Essential Oil is reputed to help maintain smooth looking skin and could  help reduce the appearance of cellulite, "
89% Organic Ingredients
Contains organic certified Coconut, Apricot Kernel, Sunflower Oil, and Shea Nut butter
Enriched with moisturizing Aloe Vera
Light velvety texture that leaves the skin feeling silky
Suitable for all skin types
Simple Ingredients:
Purified Water
Organic Coconut Oil*
Organic Sunflower Seed Oil*
Cetearyl Alcohol
Coco-Glucoside
Organic Shea Butter*
Xanthan Gum
Apricot Kernel Oil
Phenoxyethanol
Organic (Aloe Vera) Leaf Juice Powder*
Citric Acid
Tocopherol
Lactic Acid
Benzoic Acid
Dehydroacetic Acid
Grapefruit Oil