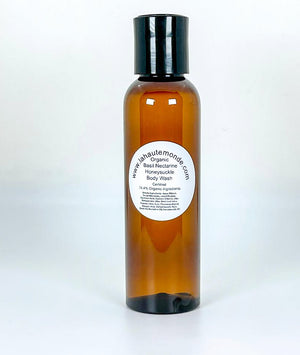 Organic Basil Nectarine Honeysuckle Body Wash
Our Basil Nectarine Honeysuckle Organic Body Wash is plant-based.  A soothing fragrance that will remind you of your best time at a spa. Certifed 74.4% Organic
Simple Ingredients: Aqua (Water), Decyl Glucoside, Lauryl Betaine, Xantham Gum, Sodium Chloride, Aloe Barbadensis (Aloe Vera) Leaf Juice Powder, Citric Acid, Phenoxyethanol, Benzoic Acid, Dehydroacetic Acid, Basil Oil, Nectarine Oil, Honeysuckle Oil
"Honeysuckle essential oil is derived from the bright orange flowers of the honeysuckle plant and has been used for more than 1,400 years in traditional medical practices of China.  Honeysuckle essential is so commonly used on the skin, as it may also minimize the appearance of wrinkles and age spots, while drawing blood to the surface of the skin, promoting the growth of new cells and a rejuvenated look.
"Basil or Tulsi is cooling and soothing in nature which enhances its excellent anti-inflammatory properties to work well in warding off skin irritations, small wounds, and acne. Also rich in Vitamin C, it boosts skin cells' metabolism and lends a brighter complexion, firmness, and elasticity to the skin.
Nectarines are good for the skin.
There are many nutrients in nectarines that promote healthy skin. One of them is vitamin E, which can act as an anti-inflammatory and also protects skin from free radical damage caused by ultraviolet light. A medium nectarine contains about 5% of our daily vitamin E needs."