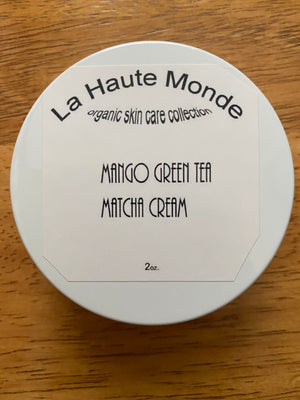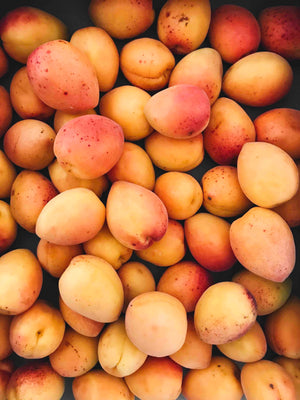 Organic Mango Green Tea Matcha Cream
New La Haute Monde Mango Green Tea Matcha Butter Cream
All Natural – Organic – Handmade
Shipped with USPS First Class Package.
Benefits of Green Tea Matcha
Green Tea Matcha contains chlorophyll, a powerful detoxifier, that removes harmful toxins and fights free radicals that damage cells needed to protect our skin.
Green Tea Matcha is particularly good for acne because it can decrease sebum production.
Concerns about fine lines and wrinkles?  You will love the effects of Green Tea Matcha, it protects our largest organ from harmful UV rays that encourage prematurely aging and hyper-pigmentation.
Green Tea Matcha is known for being an energy booster, so it can stimulate and rejuvenate skin cells.
Benefits of Mango Butter  
Mango Butter contains higher concentrations of nutrients for your skin
Contains great amounts of vitamins A and C. boost the moisture in your skin. Vitamin C in mango butter helps it to boost the skin, brightening it, while Vitamin A helps to increase the skin's youthful appearance, reducing fine lines.   
Since mango butter is a rich moisturizer, it is very soothing and healing.
The extra protective barrier on the surface of your skin to allow it to hydrate and heal. Its damage-repairing properties help to mend the skin and leave it healthy and moisturized.
Benefits of Cocoa Butter
Prevents Skin Dryness and Peeling
Cocoa butter makes an excellent skin moisturizer, plus it does more than just hydrate the skin
Natural hydrating products also tend to cause much less irritation for people with sensitive skin while still locking in moisture
 Cocoa butter contains compounds called cocoa mass polyphenols, which some studies have found can help diminish signs of aging, plus soothe sensitive skin suffering from dermatitis or rashes.

Benefits of Coconut Oil
It hydrates skin for 24 hours and helps to improve skin elasticity and collagen production. Coconut oil is also known for its anti-aging properties. Coconut oil has antioxidants such as Vitamin E and Vitamin A, which help to slow down the aging process and may help to reduce the damage from free radicals and the sun
Benefits of Olive Oil
 Research also proves that applying olive oil to the skin can prevent signs of photo-aging and sun damage. 
Olive oil also works well with our skin because it's easily absorbed into the skin. This is due to the olive oil's own comparability to your skin's own natural sebum, which allows it to nourish your skin at a deeper level. 
Grapefruit essential oil may contribute to healthy skin by preventing and treating skin conditions like acne 
Peppermint oil naturally cleanses the skin and has antiseptic and antibacterial properties. It has a cooling effect which soothes irritation and inflammation due to acne.
Rosemary Essential Oil reduces stress, boost immune system and increase circulation