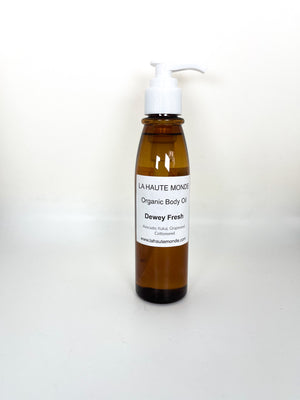 Organic Body Oil - Dewey Fresh
La Haute Monde Dewey Fresh Body Oil
Sometimes your skin needs more.  
More attention. More moisturizing. More love. 
So love your skin with our patent pending special blend formula, with a unique blend of oils that your skin will love

Avocado oil the antioxidants and anti-inflammatory help your skin stay smooth strong and elastic.
Grapeseed oil helps the vitamin E and vitamin C in your skin to be more efficient and effective at preserving your skin.
Kukui nut oil is extremely hydrating ingredient that seals water in to the skin. For dry and or aging skin thanks to his powerful hydrating and nourishing properties.
Cottonseed oil contains high amounts of vitamin E which is an antioxidant with many proven benefits for the skin.