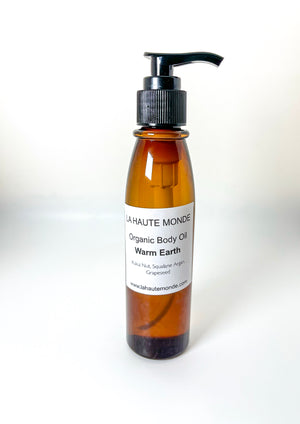 Organic Body Oil Warm Earth
Our uniquely formulated organic body oil is not greasy and absorbs quickly in to your skin.  You will love the results!
Benefits of Kukui Nut Oil for Skin
Absorbs quickly into the skin.
Deeply hydrates skin.
Prevents transepidermal water loss.
Soothes skin.
Repairs and protects skin with antioxidants (vitamins A, C, and E)
Softens and smooths skin.
 Benefits of argan oil for skin
Protects from sun damage. ...
Moisturizes skin. ...
Treats a number of skin conditions. ...
Treats acne. ...
Heals skin infections. ...
Improves wound healing. ...
Soothes atopic dermatitis. ...
Has anti-aging effects.
 Grapeseed oil benefits for your skin!
#1: Manages acne breakouts. ...
#2: Lightens acne scars. ...
#3: Protects against free radicals. ...
#4: Moisturizes and balances the skin. ...
#5: Absorbs easily. ...
#6: Minimizes fine lines and wrinkles. ...
#7: Antimicrobial. ...
#8: Evens skin tone.
10 Squalane Oil Benefits
It reduces the appearance of fine lines. ...
It moisturizes skin. ...
It softens texture. ...
It soothes skin and prevents irritation. ...
It's non-comedogenic. ...
It controls oil. ...
It can help fade the look of dark spots. ...
It's similar to our own skin's oil.